What to Expect
Anesthesia
Before receiving anesthesia for your scheduled surgery, refrain from consuming any food or beverages for a minimum of eight hours. Additionally, avoid chewing gum or using tobacco products. Leave any valuable items, such as jewelry, at home. Prior to being transferred to the operating room, remove any removable teeth, and do not wear glasses or contact lenses while in the OR.
We provide our patients with state-of-the-art anesthesia and pain management care. Utilizing the latest techniques in anesthesia to ensure a successful and as pain free a procedure as possible.
The role of the anesthesia care team in your surgery is to maintain and regulate your critical life functions, such as your heart rate, blood pressure and breathing. Your anesthesia care team will meet with you prior to your surgery to discuss the type of anesthesia that will be used and to discuss your past medical and surgical history. The anesthesia team is comprised of an Anesthesiologist and Certified Nurse Anesthetists (CRNAs). The anesthesia team will work together to develop the best anesthesia care plan to meet your specific needs.
After completing the registration process, you will be taken to the pre-op department where you will receive light sedation prior to the nerve block being performed. After you receive the light sedation, your anesthesiologist will use an ultrasound machine to locate the desired nerves and make an injection near the nerves to numb the area of your body that requires surgery. This helps with post-operative pain control and often means the patient requires less pain medication after surgery.
If there are no medical contraindications, anesthesiologists are able to perform regional anesthesia techniques for a wide variety of surgical procedures. Some examples of procedures surgeons at our facility order nerve blocks for include:
Orthopedics (bone and joint)
Shoulder repair
ACL, MPFL and MCL repair
Foot and ankle procedures
Fracture repair
General Surgery
Faster awakening;
8-24 hours of pain relief after a single injection;
Better pain control than narcotics alone;
Less need for narcotics and therefore less side effects from these medicines like nausea and constipation;
You may go home earlier after surgery;
Easier breathing resulting from better pain control;
Easier or earlier participation in physical therapy post-surgery.
Significant injuries can occur but are extremely rare. Such injuries include infection, injury to blood vessels, reaction to medications, temporary or permanent loss of sensation and/or weakness. You should discuss any concerns you have regarding this procedure with your anesthesiologist prior to your surgery.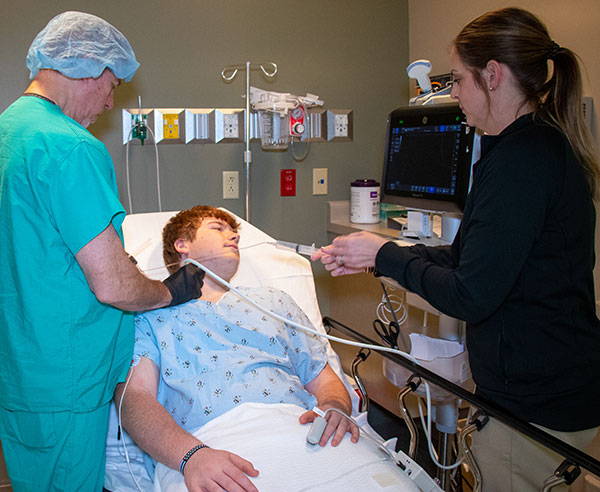 What to Expect
Have more questions about the day of your procedure?
Learn More
FAQs
Still have questions? Visit our FAQ page or contact us.
FAQs
Contact Us